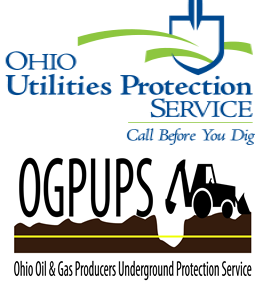 O.U.P.S. and O.G.P.U.P.S. themselves do not locate or mark underground facilities. Locating and marking facilities is the responsibility of the utility owners. If you are a member of Guernsey-Muskingum Electric Cooperative and plan to dig call us at:
New Concord 740-826-7661
Ohio Toll Free 1-800-521-9879
WHAT YOU NEED TO KNOW
Planning to dig? Here's what you need to know…
Calling before you dig is important not only for safety reasons, but also because IT'S THE LAW! According to the Ohio Revised Code, Chapters 3781.25 - .32, anyone starting an excavation project MUST contact the Ohio Underground Protection Service (O.U.P.S.), at least 48 hours but no more than 10 working days (excluding weekends and legal holidays) before beginning any digging project. Homeowners can contact both O.U.P.S. and O.G.P.U.P.S. by dialing 8-1-1. Or call O.U.P.S. directly at 1-800-362-2764 or enter online with e-dig, the easy online dig request for homeowners. Call O.G.P.U.P.S. directly at 614-715-2984 to have oil and natural gas lines marked.
*Please note that the Ohio Revised Code defines excavator as "the person or persons responsible for making the actual excavation" (ORC Sec. 3781.25 (K)). Therefore, while O.U.P.S.will not refuse a ticket from any caller, we advise the actual excavator place the call to O.U.P.S., receive their own ticket number and wait the required 48 hours in order to be compliant with Ohio law.*
Some examples include:
•Landscaping
•Digging holes for fence posts or a mailbox
•Anchoring supports for decks and swings sets
•Planting trees
•Removing tree roots
•Driving landscaping stakes into the ground
•Installing a retainer wall
Willie Wiredhand says, "even if your digging project is small, it's always best to call!"